Boat Rental Package "Andamari" Liveaboard – Phinisi Charter – Labuan Bajo 2022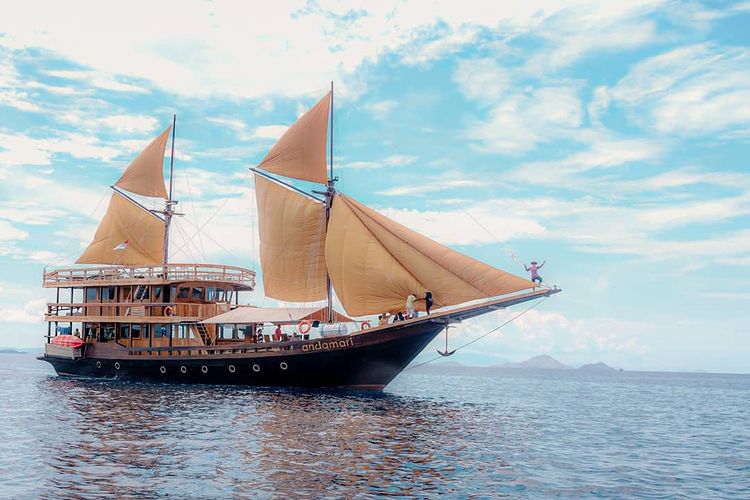 Howdy Travelers? Mimin localguide.co.id wants to talk about the phinisi ship whose grade is no longer playing. Especially from Liveaboard, surely it won't disappoint, right?
Yep! Especially if it's not Andamani Liveaboard, btw Phinisi Andamari and Phinisi Adishree are already like siblings. Don't believe the admin? Check Adishree's article then, you will definitely never regret it. But, what are the Andamari phinisi facilities? Seriously good? Hmm.. Let's scroll with Mimin !
Facility
2 Dining rooms
AC
Hot shower
Towel
P3K
Outdoor area
3 sun decks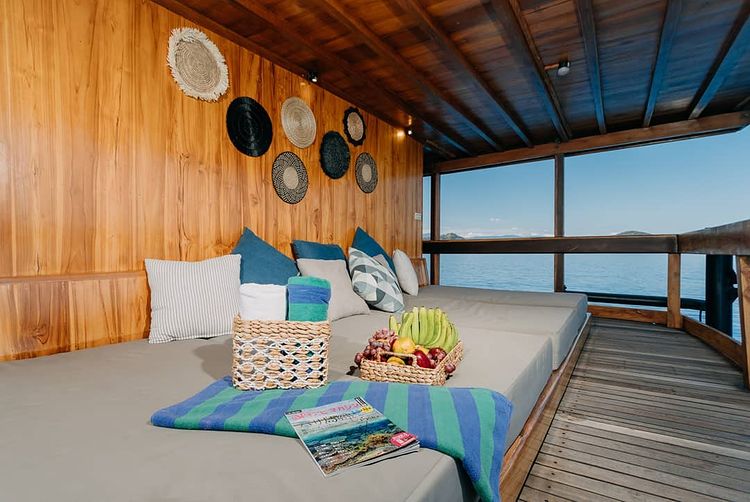 Cabin
2 Cab Types
1 Kabin Master + Double bed + AC + Private bathroom + hot shower
4 Kabin double bed  + AC + Private bathroom + hot shower
2 double bed + 4 twin bed + AC + Private bathroom + hot shower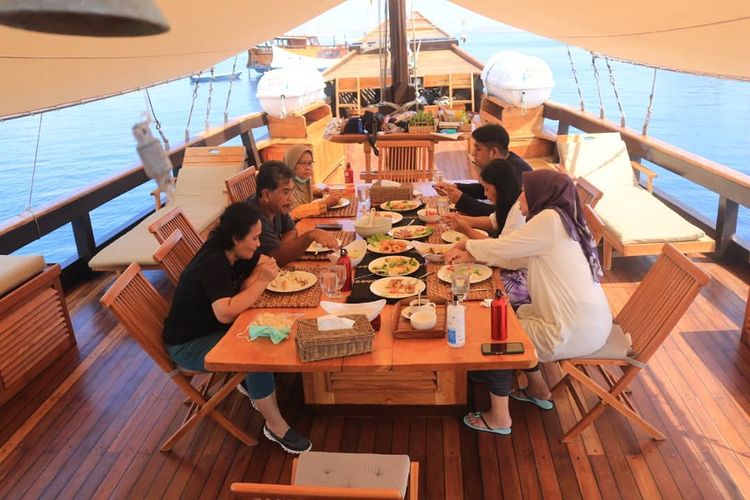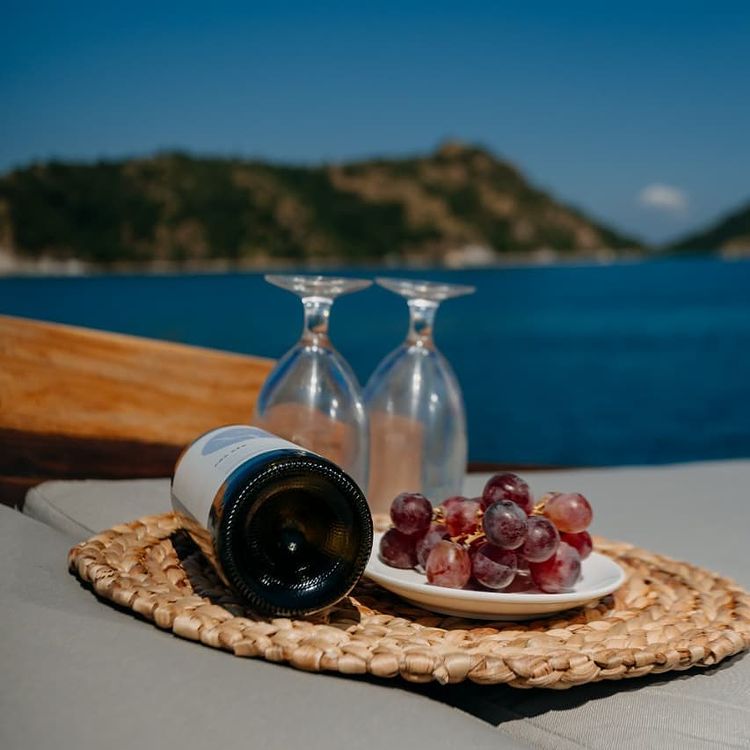 BOAT SPECIFICATIONS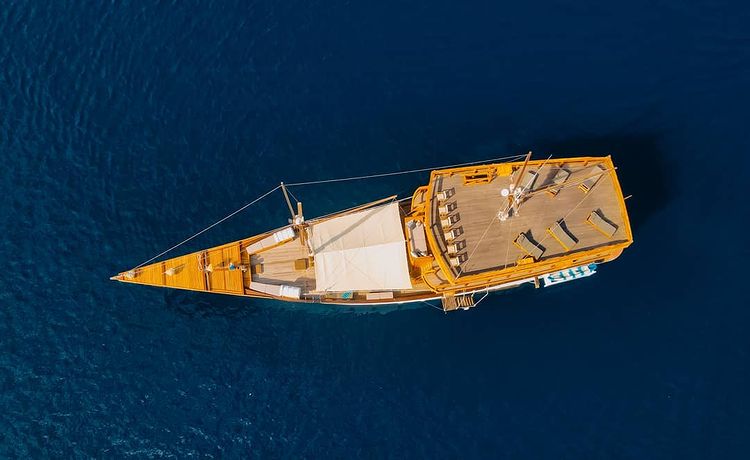 Built : 2019
Type : Phinisi
Dimension : 30m
length, 7.95m
wide and 3m deep
Engine : 6D40 double turbo
Auxiliary power : 2 generators, 40 KVA
Speed : 7 knots
Fuel : 9 tons
Freshwater : 4 tons and water  maker
Capacity : 30 one day trip and 12 overnight guests
Crew : 9
25 life vest
2 life raft(15 persons per life raft)
6 life buoys
6 pcs APAR First aid kit
Navigation : Garmin GPS
Communications : Marine radio, VHF radio
Price List of "Andamari" Charter Ship Rental Prices – Labuan Bajo, 2022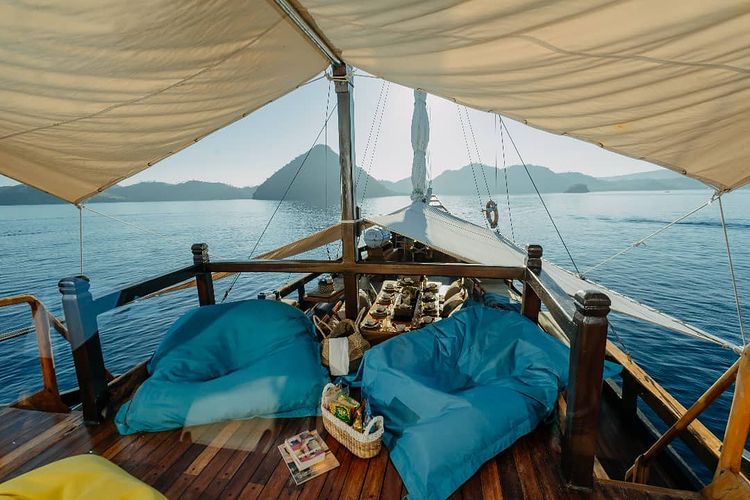 1D Trip
Program
Pax
Price
Include dinner
1-25 pax
52.000.000
Exclude dinner
1-25 pax
60.000.000
Phinisi Charter Boat Diving Package "Andamari" – Labuan Bajo 2022
Komodo National Park diving
Program
1-5 Pax
6-10 Pax
Leisure
Diving
Leisure
Diving
2D1N
57.000.000
92.000.000
63.000.000
102.000.000
3D2N
76.000.000
115.000.000
84.000.000
127.500.000
4D3N
108.000.000
129.500.000
120.000.000
144.000.000
5D4N
144.000.000
173.000.000
160.000.000
192.000.000
6D5N
171.000.000
211.500.000
190.000.000
235.000.000
7D6N
205.200.000
253.800.000
228.000.000
282.000.000
Diving Outside Komodo National Park
Program
1-5 Pax
6-10 Pax
Leisure
Diving
Leisure
Diving
2D1N
76.500.000
116.000.000
85.000.000
124.000.000
3D2N
114.750.000
139.500.000
127.500.000
155.000.000
4D3N
153.000.000
167.400.000
170.000.000
186.000.000
5D4N
191.250.000
223.200.000
212.500.000
248.000.000
6D5N
229.750.000
279.000.000
255.000.000
310.000.000
7D6N
267.750.000
334.800.000
297.500.000
372.000.000
Include:
Private Boat
Airport Transfers
Tour guide
Eat on the boat
Drinking water, coffee & tea
Snorkeling equipment
Entrance ticket to Komodo National Park
Photo/Video Documentation
Exclude:
Return Flight Ticket
Insurance
Personal expenses
Crew/guide tips
Phinisi Charter Ship Gallery "Andamari" – Labuan Bajo 2022